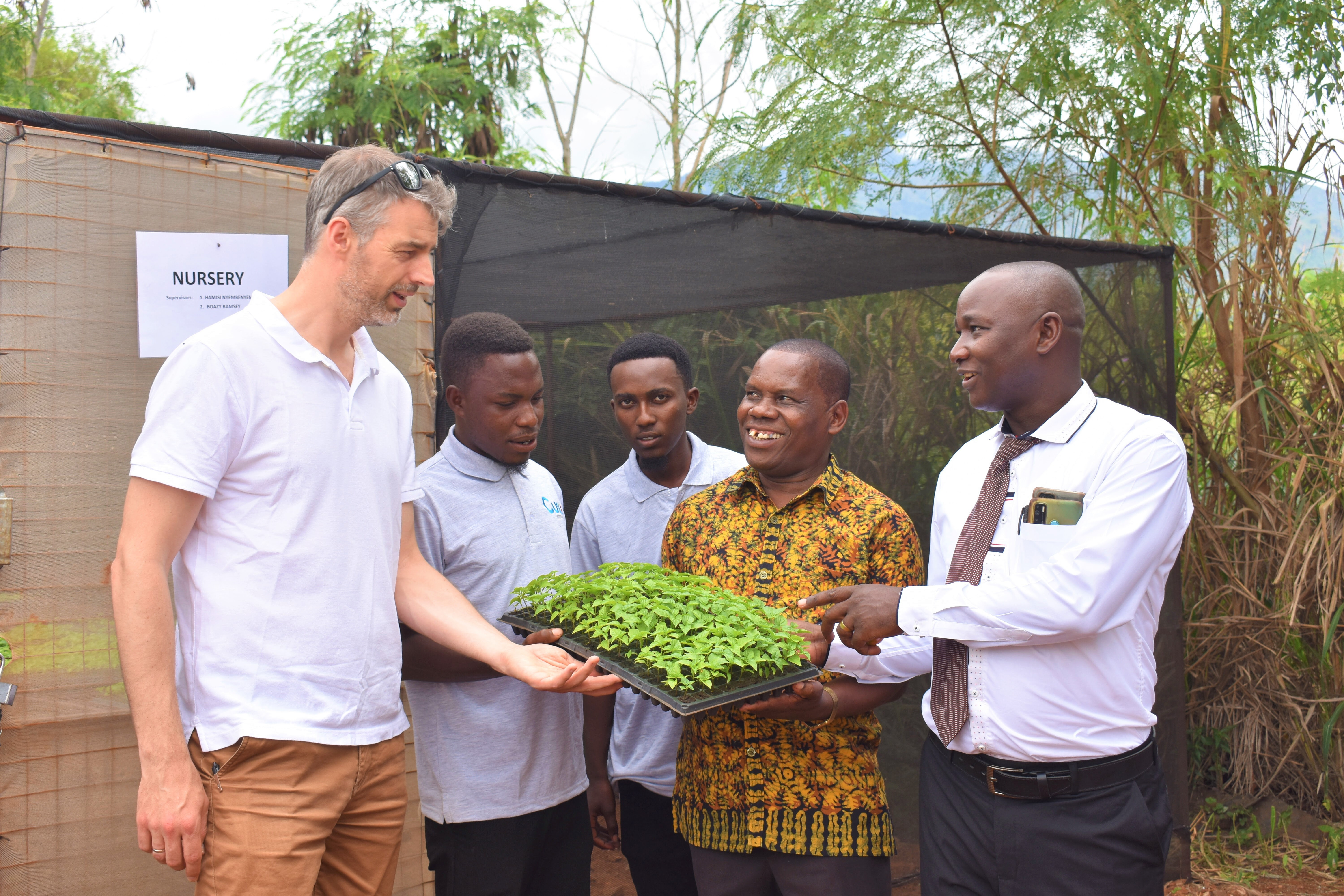 Cuso International CEO Visits SUGECO
The Chief Executive Officer for Cuso International Mr. Nicholas Moyer visited SUGECO on the 30th May 2022 accompanied by the Country Director Dr. Romanus Mtung'e and the Finance and Projects Manager Mr. Michael Kasubi. The purpose of the visit was to familiarize with SUGECO and the Kizimba Business Model (KBM) as well as to interact with the various National and International volunteers and analyze their impacts on the lives of youth and women through KBM.
Also present was the Chairperson of the Board of Directors, Dr. Anna Temu who gave welcoming remarks and praised the strong long-term relationship between Tanzania and Canada ever since the UNITERA project and thanked Cuso International for their support through the volunteers who are working hard to implement the KBM Project.
The Executive Director Mr. Revocatus Kimario gave a presentation on the Genesis of SUGECO, its projects, activities, and services, its position now, and where it hopes to be through its vision of changing the attitude and mindset of Tanzanian youth in Agribusiness. He also presented about KBM and highlighted the potential of KBM in empowering youth and women for economic welfare, employment creation, and community development at large. "400 youth have been practically trained on Habanero production at the demo farm and 250 selected for the KBM project. 40 contract farmers have also been identified with commercial banks like NMB and donor community ready to meet the commercial part of the project.'' Mr. Massimba said
Cuso volunteers at SUGECO also showcased their role in contributing to youth and women's economic empowerment through SUGECO. This work was presented by the National Volunteer and KBM Coordinator Miss. Vivian Josephat. The visitors also had an opportunity to tour SUGECO demo farms, where among others the KBM prototype activities are taking place. The delegation was able to see first-hand the activities included in the implementation of KBM, as well as the experience of the beneficiaries and interns who have undergone a one-year practical training in Good Agricultural Practices.
The KBM prototype has been successfully tested with the Habanero chili Loleza variety which is one of the business cases ready for transferring to the communities in the Kizimba setup. The visitors also had a chance to tour the SUGECO incubation center and see firsthand the products from Sanavita and Get Aroma spices and were briefed about the impact the enterprises are making in addressing the nutritional gaps and employment creation for farmers, youth, and women through the spice and orange sweet potato value chains.

The CEO expressed greatly how impressed he was with SUGECO and its activities and appreciated Cuso volunteers' impact on the organization and contribution to SUGECO's activities in their different roles and responsibilities, especially in the implementation of the KBM Project. The Executive Director also recommended a youth mobility policy that will allow students, graduates, and youth from Tanzania to acquire an internship in Canada for improving their skills in Agribusiness.