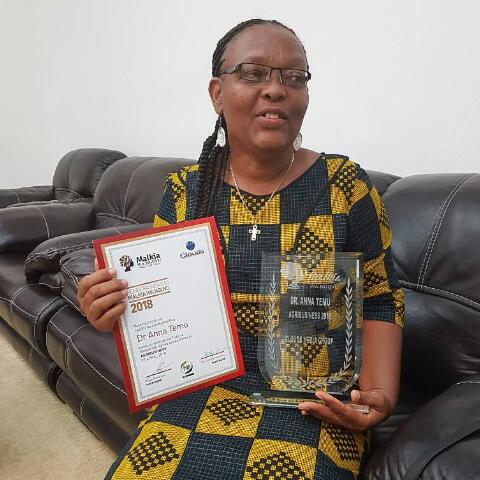 Success Story
SUGECO would like to congratulate Dr.Anna Temu for a well deserving award of "MALKIA WA NGUVU" 2018 in Agribusiness Sector. An award provided by Clouds media Group in Tanzania to recognize and appreciate the extraordinary work done by women in our society, Dr Anna Temu was among the 3 winners in Agribusiness sector and among of 33 winners of MALKIA WA NGUVU awards in this year.

Dr Anna a SUGECO founder and lecturer at SUA she founded a Cooperative in 2011 with the aim of supporting youth in agribusiness. Her effort to make the Cooperative operate and deliver quality services to its members and general public is much appreciated. It was not an easy work to institutionalize the Cooperative and make it run as strong Institution. From 40 championed members growing to 550 is not an easy job. Currently we have 250 active members engaging in Agribusiness projects around the Country.
Among other services and products lines which have been in place and delivered by SUGECO include:Mindset transformation, various training coutses, Agro studies Internship in Israel, Nutrition and Extension Services, Incubation Services, Hands on Agribusiness Skills and Green house Project.
As Cooperative Board members, Management and Staff of SUGECO, we still stand on our motto that-SUGECO is "for the youth by the Youth". Once again! Congratulations Dr. Anna Temu