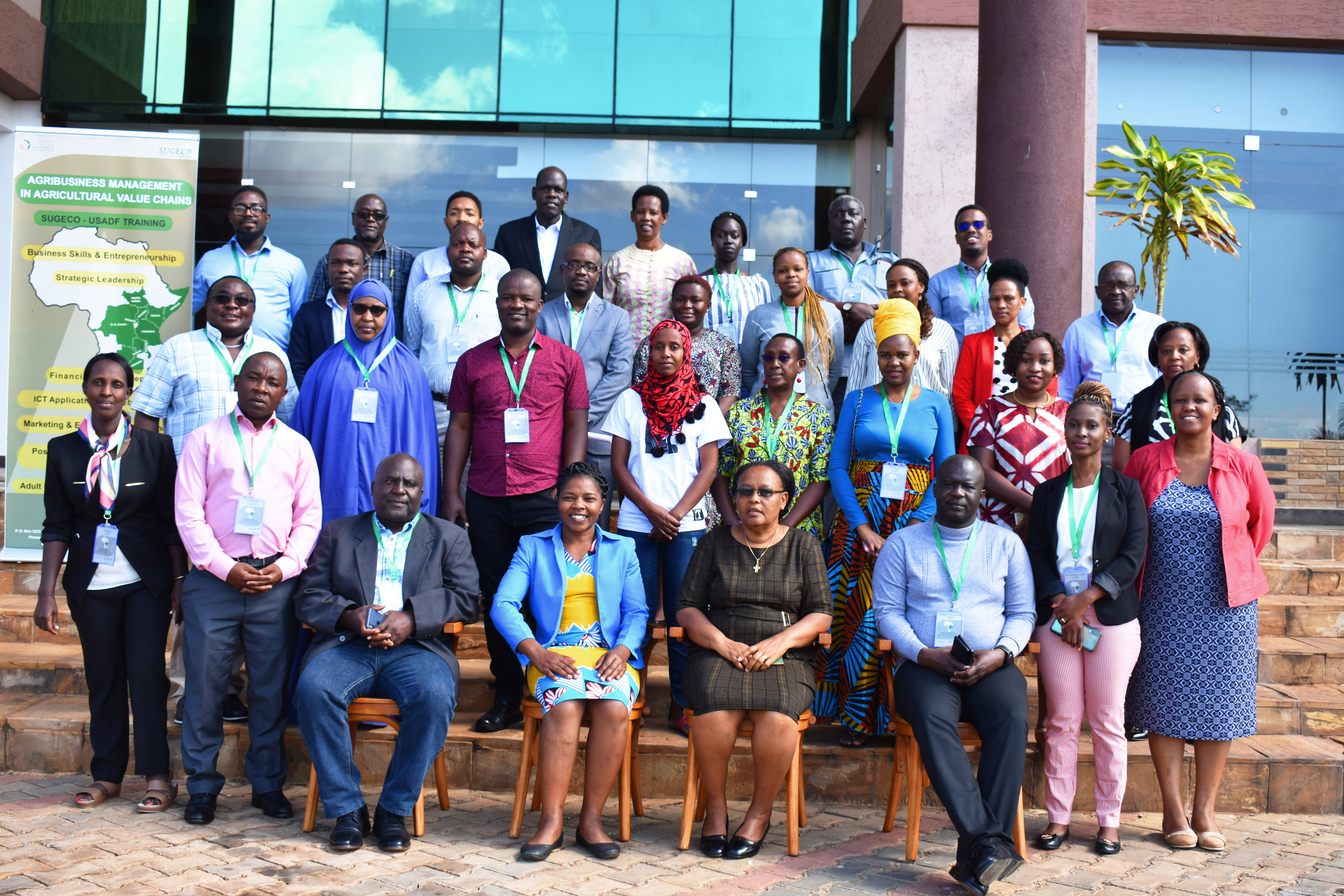 SUGECO sets a milestone to develop curriculum and pilot Training of Trainers modules for USADF beneficiaries from ten African Countries
SUGECO in collaboration with Maryland University and ADC Tanzania developed seven (7) training modules focused on Agribusiness Management in Agricultural Value Chains for Grassroot Enterprises Development. This work was funded by United States African Development Foundation (USADF).
These modules were developed by the SUGECO technical team of instructors and consultants who shared their many years of experience in working on agribusiness economics, executive programs, and agricultural value chain in Africa and worldwide to compile "AGRIBUSINESS MANAGEMENT IN AGRICULTURAL VALUE CHAINS TRAINING FOR GRASSROOT ENTERPRISES DEVELOPMENT"

The modules developed are Entrepreneurship and Business Skills, Strategic Leadership, Financial Management, ICT Application in Agribusiness, Marketing and Ecosystem Development, Postharvest Management, Food Safety, and Hygiene, and Adult Learning and Gender Perspectives.
These modules were delivered to the representatives from ten (10) African countries during the collaborative training workshop conducted in Morogoro from 4th -14th July 2022. The workshop gathered participants from Tanzania, Kenya, Uganda, Rwanda, Zambia, DR Congo, Malawi, Zimbabwe, Somalia, and South Sudan to equip them with skills on the delivery of these modules in the grassroots organizations in their respective countries as part of empowering grassroots enterprises of USADF funded project towards impactful and sustainable economic development in their respective countries.

These modules are useful for those involved in training participants at different education levels and grassroots organizations in agricultural value chains. The modules were developed to train trainers on the best practical ways to help executives in agribusiness value chains to enhance their problem-solving and decision-making skills as they continue learning, questioning, testing, and addressing different opportunities and challenges in managing their projects.
For instance, a module focused on the Application of ICT in Agribusiness was designed to help participants understand and appreciate the need for integrating ICT in Agribusiness Development as well as the technology required for successful business operations and value addition.