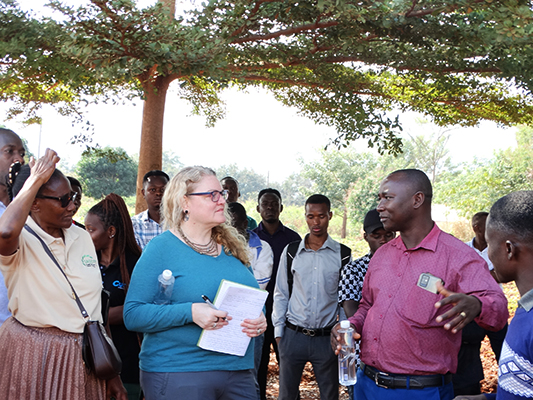 USAID-Tanzania Head of Agriculture visit SUGECO
On the 3rd of August 2022, SUGECO hosted the United States Agency for International Development (USAID) Tanzania's Head of Agriculture, Dr. Melanie Edwards in the Morogoro Region. She was accompanied by a Delegation from the Southern Agricultural Growth Corridor of Tanzania (SAGCOT) and Tanzania Equity Bank.
Dr. Melanie was eager to learn more about the activities we are doing in supporting youths and women to create business opportunities in Agribusiness Value Chains. She was led on a guided tour of the grounds that include demo farms and incubation centers led by the Executive Director, Mr. Revocatus Kimario.
Later on, a meeting was held which included a brief introduction of SUGECO and all the work we are doing in supporting youths as well as services offered by SUGECO.
Dr. Edwards proceeded on enlightening all in attendance about the work done by USAID in support of organizations like SUGECO in the agricultural sector and also pledged future support for our projects.
A question-and-answer session followed where members fielded their questions and received swift and precise answers that provided insight and exchange of ideas and information that will greatly benefit both SUGECO and Tanzania at large.